Spend a semester working on food-borne bacteria at the CDC? Analyze handedness of the giant pandas at Zoo Atlanta? Biology majors are engaged in these projects and many more through the Biology Internship Program. Thirty-five students have been employed or volunteered in off-campus experiential learning opportunities over the past 1.5 years. Our internship offerings include Atlanta Botanical Garden, Sustainable Aquatics, Intellimedix, Caprico Biotechnologies, GT Environmental Health & Safety, and GT Occupational Safety & Health. The experience has provided students with career networking opportunities, new technical skills, and a greater appreciation for the applications of biological expertise. Two internships have fostered job opportunities for the graduating student!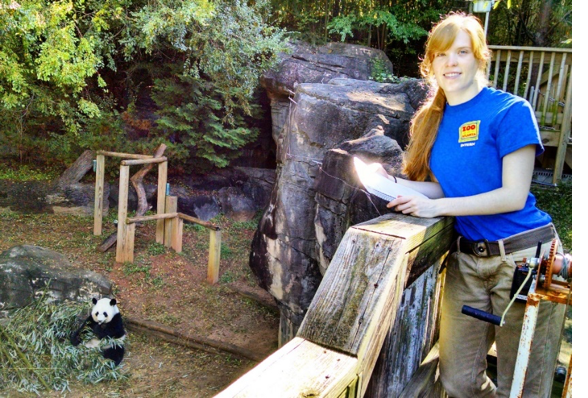 Meredith Smith, a third-year biology major, is interning in the mammal department at Zoo Atlanta. In addition to contributing to the daily care of the pandas, she is studying their behavior to uncover whether they have a preference for using one hand or the other. Meredith appreciates how unique her experience is to work with such a rare animal: "I am very thankful that I get to do this project, and I have learned a lot so far by talking to the zoo keepers and performing the tasks."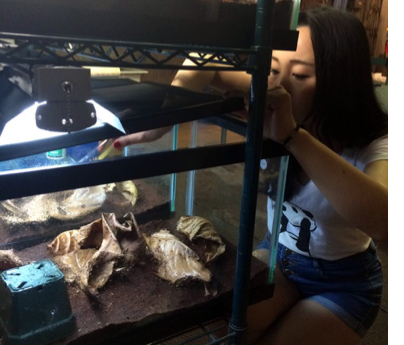 Yi Yin, a Masters student in the School of Biology, is part of a conservation team at the Atlanta Botanical Garden, studying calcium metabolism in a small toad species, Incilius coniferus. "What lured me into this position is ability to become part of the research team, and I hope this research can continue beyond the semester," said Yi.