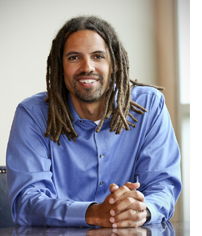 Benjamin Preston received his PhD in environmental biology from Georgia Tech in 2000. Following graduation, he spent a year with the Carolina Environmental Program at UNC-Chapel Hill before entering the environmental policy arena as the Senior Research Fellow for Science & Impacts at the Pew Center on Global Change in Arlington, Virginia. In 2005 he headed down under to work as a climate impact research scientist with Australia's CSIRO in the Division of Marine and Atmospheric Research. He returned to the U.S. in 2010 to take a position in the Environmental Sciences Division at Oak Ridge National Laboratory where he also acts as the Deputy Director of ORNL's Climate Change Science Institute. He is the 2015 recipient of the Charles S. Falkenberg Award for being a middle career scientist "who has contributed to the quality of life, economic opportunities and stewardship of the planet through the use of Earth science information and to the public awareness of the importance of understanding our planet."
We asked Ben to reminisce on his experiences as a graduate student in the School of Biology at Georgia Tech.
Who was your favorite Biology professors and what was special about them?
Each of the professors I interacted with were very different individuals, so I benefitted from each in different ways. David Dusenbery's sensory ecology class was hands down the coolest science class I ever had. I am fairly certain that Marc Weissburg undertook the most thorough review of my dissertation of anyone on my committee, so I've always held that commitment to quality in high regard. Terry Snell taught me how to be a scientist, how to write a paper, how to plan my career, and how to mentor others.
What was one of your most memorable experiences in the School of Biology and why?
I clearly remember the day I received by doctorate from the School of Biology. I participated in the graduation ceremony, I enjoyed a celebratory dinner with friends and family, and then I promptly walked right back into the lab later that very same night to collect data from one final experiment. It seemed logical at the time, but in hindsight it was either an example of my dedication to research or an example of how much graduate school had taken over my life.
What was the most important lesson learned at Tech that has best served you in your career?
During my four years in the School of Biology, I learned that success comes through persistence. The many hours I spent running experiments, studying for finals, and writing my dissertation prepared me well for a career in research. Of course, I didn't appreciate this at the time – it all just seemed like a lot of hard work. But as the saying goes, if it were easy, everyone would do it. Tech taught me to tackle the stuff that isn't easy and see it through to the end.
Do you have some career advice for new generations of Tech Biology graduates?
Today's graduates would serve themselves well by adopting an entrepreneurial approach to their careers. Graduates are basically one person start-ups. Like any new venture, they need to develop networks and marketing. They need to develop strategies that enable them to compete, and they need others to invest in them. Most of all they have to demonstrate they have something to offer. Hence, regardless of what career path they choose, Georgia Tech graduates can benefit from honing their skills in communication (written and oral, analog and digital), because being able to engage others is essential for leadership and career success.