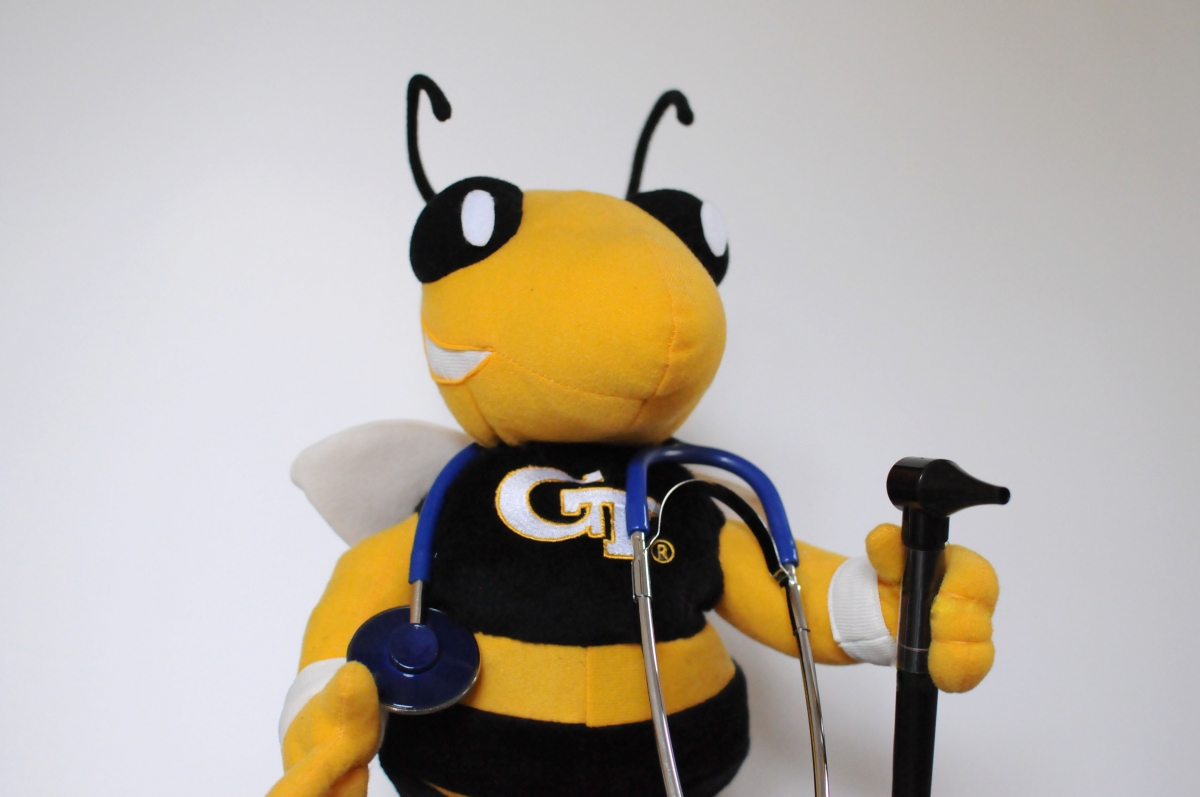 A minor in Physiology is available to all Georgia Tech students, including Biology majors. The Physiology Minor focuses on anatomy and physiology, with emphasis on movement and the physiological processes that support motor activity in humans and also non-human animals. Physiology is the study of the integration of cellular and molecular processes into the functions of the systems of the body. The study of physiology lays the groundwork for understanding the pathophysiology of disease, the responses of the body to growth, development and environmental stressors, the design of biologically inspired robotics, and the interfacing of the human body to prosthetics, orthotics and exoskeletal devices for rehabilitation. This program prepares students for advanced training in biomedical engineering, basic research on motor system, rehabilitation sciences and other medical specialties.
The Physiology minor is awarded by the registrar's office and appears on your transcript and diploma. The minor constitutes 8 credits of required courses and an additional 7 credits of electives (including a minimum of 4 hours within APPH for a total of 12 APPH credit hours). At least 9 credit hours must be at the 3000 level or higher. The required coursework includes APPH/BIOL 3753, APPH 3754, APPH/BIOL 3755, and APPH 3756. For Biology majors, APPH/BIOL 3753 and 3755 may be counted in either depth or breadth electives; all remaining APPH courses can be counted in breadth electives. The 7 credit hours of electives must be taken from the list below to complete the minor. A minimum of 4 of these elective credit hours must be APPH courses, and a maximum of 3 credit hours may be APPH 4699. All courses counting toward the minor must be taken on a letter-grade basis and completed with an overall grade point average of at least 2.00. Students may not double-count courses towards more than one certificate or minor. A course may count towards the student's major and minor if the course:
Is not required by name and number for their major
Is not fulfilling a core area humanities or social sciences (A-E)
In most cases, free electives and technical electives may be used towards minors. Further information is available from the Physiology Minor advisor, Dr. Adam Decker (email for appointment).
To declare a minor in Physiology, first complete the change/add minor form on the registrar's website and the schedule an appointment to meet with the Physiology Minor advisor. You should declare your minor as soon as you decide to pursue it, rather than waiting until you have completed the coursework for the minor.
Required courses for the Physiology Minor (8 credits):
APPH/BIOL 3753 - Fundamentals of Anatomy (3-0-3), Prerequisite: BIOL 1510, BIOL 1521, CHEM 1211 or CHEM 1310
APPH 3754 Human Anatomy Lab (0-3-1), Co-requisite or Prerequisite APPH/BIOL 3753
APPH/BIOL 3755 Human Physiology (3-0-3), Prerequisite: APPH/BIOL 3753
APPH 3756 Human Physiology Lab (0-3-1), Co-requisite or Prerequisite APPH/BIOL 3755
Elective courses (a minimum of 4 APPH credits chosen from the following):
Note: A maximum of three credit hours of APPH 4699 (undergraduate research) may be applied towards the Physiology minor.
APPH 2500 – Introduction to Sport Science (3-0-3) No Prerequisite.
Students will apply scientific principles to human performance related to sport and movement across an array of topics (e.g., rehabilitation, exercise physiology, locomotion biomechanics, prosthetics).
APPH 3000 – Survey of Medicine (3-0-3) Prerequisite: BIOL 1510 or CHEM 1211 or CHEM 1310
Content focuses on scientific, social, and cultural aspects of illness, how perceptions and behavior influence disease concept and fundamental aspects of medical diagnosis and treatment.
APPH 3500 - Nutrition and Health (2-0-2) Prerequisite: APPH 1040/1050.
Study of human nutrition as an applied science. Nutrition physiology: metabolism, energy, production, biochemical aspect, role of nutrients, weight control mechanisms, and preventative nutrition in health management will be covered.
APPH 4100 - Exercise Physiology (2-3-3) Prerequisite: APPH/BIOL 3751.
Physiology of human movement with emphasis on metabolic, cardiorespiratory, and musculoskeletal aspects; associated topics include body composition, thermoregulation, and ergogenic aids.
APPH 4200 - Kinesiology (3-0-3) Prerequisite:BIOL 1510 or 1511 or 1520; MATH 1113 or 1551 or 1511 or 1502 or 1552.
Analysis of human movement from the broad perspectives of kinesiology, neural control, and human anatomy, to include the study of locomotion in both healthy and clinical populations, tasks and various movements of the upper extremities.
APPH 4400 – Human Neuroanatomy (3-0-3), No Prerequisite
The purpose of this course is to learn the anatomical makeup of the human nervous system. In this course we will close details of central and peripheral neuroanatomy with links to function where appropriate. As well, comparison with vertebrate neuroanatomy will be made. We will also regularly link clinical and research perspectives into lectures.
APPH 4600 - Muscle Structure & Plasticity (3-0-3) Prerequisite: BIOL 1510.
To provide an in-depth understanding of the biological processes underlying skeletal muscle structure and function.
APPH 4699 - Undergraduate Research (max. 3 cr.)
Additional elective courses outside of APPH: (3 credits maximum):
BIOL 3450 – Cell Molecular Biology (3-0-3) Prerequisites: BIOL 1510 or BIOL 1511 and CHEM 2311.
An introduction to the structure and function of cells and their organelles with emphasis on eucaryotic cellular and molecular processes. (Note Biology majors cannot count BIOL 3450 toward the Physiology minor.)
BIOL 3451 – Cell Molecular Biology Lab (1-0-3) Prerequisites: BIOL 1510 or BIOL 1511 and CHEM 2311.
An introduction to experimental methods of cell and molecular biology research that will cover some fundamental topics of cell biology. (Note Biology majors cannot count BIOL 3451 toward the Physiology minor if BIOL 3451 is being used to fulfill the Biology major core lab requirement.)
BIOL 4446 – Animal Physiology I (3-0-3) Prerequisites: BIOL 3340.
Systems physiology including nerves, muscles, kidney, digestion, circulation, endocrinology, reproduction, and respiration.
BIOL 4464 – Developmental Biology (3-0-3) Prerequisites: BIOL 2344 or 2345 and 3340.
Investigations of cell differentiation and development using the tools of molecular genetics and cell biology.
BMED 3100 – Systems Physiology (3-0-3) Prerequisites: CHEM 1315 or CHEM 2311.
An introduction to human physiology emphasizing biomedical engineering approaches to the understanding of basic organ function, disease states and medical intervention.
ECE 4781 - Biomedical Instrumentation (3-0-3) Prerequisites: ECE 3040 or ECE 3710.
A study of medical instrumentation from a systems viewpoint. Pertinent physiological and electro-physiological concepts will be covered. Crosslisted with CHE, CHBE, BMED and ME 4781.
LMC 3318 – Biomedicine and Culture (3-0-3) Prerequisites: ENGL 1102.
Discusses the history of biology and medicine, popular representations of health, disease, and the medical establishment, and the cultural implications of medical imaging technologies.
ME 4757 - Biofluid Mechanics (3-0-3) Prerequisites: AE 2020 or ME 3340 or BMED 3300.
Introduction to the study of blood flow in the cardiovascular system. Emphasis on modeling and the potential of flow studies for clinical research application. Crosslisted with AE, BMED & CHE 4757.
ME 4758 - Biosolid Mechanics (3-0-3) Prerequisites: ME 3201 or BMED 3400.
The mechanics of living tissue, e.g., arteries, skin, heart, muscle, ligament, tendon, cartilage, and bone. Constitutive equations and some simple mechanical models. Mechanics of cells. Applications. Crosslisted with AE and CHE 4758.
PSYC 2230 - Abnormal Psychology (3-0-3) Prerequisite: PSYC 1101.
This course surveys the spectrum of psychiatric disorders (symptoms, epidemiology, etiology, and treatment) and provides a perspective on adaptive functioning and psychological resilience.
PSYC 3020 - Biopsychology (3-0-3) Prerequisites: PSYC 1101, and BIOL 1520.
Neurophysiological, endocrinological, and biochemical bases of sensory and motor functioning, motivation, learning, memory, and behavior dysfunction.
PSYC 4100 - Behavioral Pharmacology (3-0-3) Prerequisites: PSYC 1101, BIOL 1520, and CHEM 1310.
An analysis of drug-behavior interactions with emphasis on basic pharmacology, role of contingencies in drug effects, mechanisms of drug dependency, drugs as stimuli, and basic neuropharmacology.
Note: Additional courses may be added to the lists above; please consult with the Biological Sciences advisors for additional information.