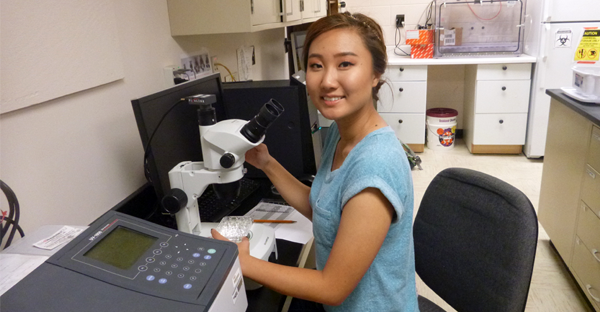 2016 Fast-Track scholar Nancy Park working in lab.
The Fast-Track to Research Scholarship program is in its second year and continues to enhance the educational experience of Biology undergraduates. This program leverages the extensive research activity at Georgia Tech by involving undergraduates in research labs as early as the spring semester of their freshman year. Fast-Track scholars receive stipends of $1500 to work about 10 hr/week in a research lab of a Biological Sciences faculty. The Fast-Track research program kicks off a multi-year relationship with a faculty mentor that usually culminates in an honors thesis based on the student's research. Such a research experience often results in students being included as an author on scientific publications and presenting at scientific meetings. The mentor relationship also supplies students with strong reference letter writers who can comment authoritatively on the students' lab skills, work habits, and analytical ability, serving them well regardless of career path.
Biology alumni have sponsored the Fast-Track to Research Scholarships program with great generosity. Alums have provided funds to offer 14 Fast-Track Scholarships for fall 2016. We are starting to accumulate data on the considerable impact of the Fast-Track scholarship program on the School of Biological Sciences. For example, the number of freshmen biology majors increased 92% over fall 2015 and biology majors are up 17% overall. The yield of freshman biology majors offered Fast-Track scholarships is about 1/3 higher than students not receiving such offers. Moreover, the Fast-Track Scholarship program is being copied by other Schools in the College of Sciences and throughout Georgia Tech. We of course cannot attribute all of the enrollment increases to the Fast-Track program because many other recruiting activities are being employed. Overall, the Fast-Track program helps distinguish the GT biology major and provide special opportunities that are not widely available at other universities.
We are deeply grateful to the following Biology alums whose contributions have made the 2016 Fast-Track program possible: David Nicholson '64, Willie Caldwell '65, Joel Pittard '68, Harry Harvin '68, Russ Bell '69 '71, Chris Purvis '69, Wade Barnes '71, Jack McCallum '72, Fred Levin '72, Laurenthia Mesh '72, Wayne and Willa Kerr '73 '74, Lawrence Catchpole '73, Cindi Bossart '74, David Williamson '74, Rex Hamilton '74, Tim Helton '74, John Harden '74 '76, Colleen Sari '77, Randal Walker '84, Aaron Macdonald '87, Phil Williams '88, Traci Battle '93, Richard Wingate '99, Jennifer Blake '04, Kristen Marhaver '04 family, and Jessica Schwind '05.
Fast-Track to Research Scholarships are an exceptional giving opportunity for alumni and other friends wishing to help us improve our ability to attract and retain top students in Biology. Such scholarships are available for naming by interested parties. Benefits to donors include knowledge that they are full partners in supporting excellence in scholarship and research, and playing an active role in advancing the profile of the School of Biological Sciences at Georgia Tech.
If you would like to help sponsor a Fast-Track to Research Biology Scholarship for 2017, please send a check payable to the Georgia Tech Foundation to the Biology Financial Manager, Nena Gray, 310 Ferst Drive, Atlanta, GA 30332-0230. If you support a full scholarship with $1500, you can name the scholarship as you wish. If you would like to discuss the program further and how you might contribute, please contact Dr. Terry Snell, Professor of the School of Biological Sciences.