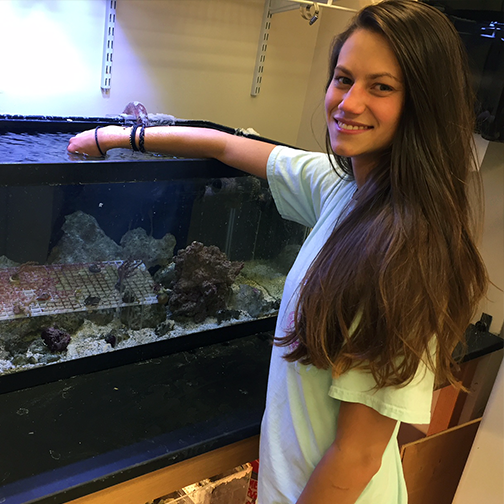 Allie Caughman started in the Stewart lab as a Fast-Track scholar in 2016 and has remained in that lab since that time. As a result of her research, which focuses on the microbes living on marine animals, she is a co-author on a paper now in review. She will be staying in the lab for future semesters to complete an undergraduate thesis. She is currently planning to apply for graduate school.
For the past three years, Fast-Track to Research scholarships have been a key element in recruiting the best and brightest freshmen for the School of Biological Sciences. These $1500 stipends are offered to exceptionally accomplished entering freshmen in order to help attract them to our school. This scholarship enables these students to work ten hours per week in the research lab of a Biological Sciences faculty member in the spring or summer semester of their freshman year. These mentoring relationships are highly prized by Biology students in helping them launch their college and professional careers.
Thanks to alumni donors, the Fast-Track to Research Scholarships in Biology have been a huge success and are helping increase the number and quality of Biology majors at Georgia Tech. The data supporting this includes the following:
The freshman enrollment yield for Biology majors admitted to Georgia Tech and offered a Fast-Track scholarship was 70% higher than the average yield for Biology majors in Fall 2017
The total enrollment for Biology majors was stable in Fall 2017 at 360 despite the fact that we launched a new Neuroscience major. In comparison, freshman enrollment was 21% higher than the previous year
The average SAT score for Fast-Track scholars enrolled in Fall 2017 was 1470, 6% higher than the average for all Biology majors
You can see interviews with several Fast-Track scholars describing how the scholarship influenced their decisions to come to Georgia Tech and major in Biology at: http://www.biology.gatech.edu/undergrad/fast-track-research-scholarships.
We are asking that you join other Biology alums in supporting this important program. In the past three years, our alumni have provided the financial contributions to make the Fast-Track Scholarship Program a big success. Any financial support that you give, whether big or small, will go 100% to scholarships. Gifts of a full $1500 scholarship will enable you to name the award as you wish.
To make a donation please mail a check made out to the Georgia Tech Foundation, Inc. for Fast-Track Scholarships to Ms. Nena Gray, Financial Manager, School of Biological Sciences, Georgia Tech, Atlanta, GA 30332-2230. The Georgia Tech School of Biological Sciences and its students are truly appreciative of any donation that you make. If you have any questions, please contact Drs. Snell or Streelman.
On behalf of the School of Biological Sciences Advisory Board and the faculty and students of the School of Biological Sciences, we are most grateful for your support. By giving back to our school you will help enhance the reputation of Georgia Tech and the value of your degree. Thank you and GO JACKETS!!!!
Sincerely,
Terry W. Snell, Professor
Todd Streelman, Professor and Chair