Fast-Track to Research scholarships continue to be a key element in recruiting the best and brightest freshmen for the School of Biological Sciences. These $1500 stipends are offered to exceptionally accomplished entering freshmen in order to help attract them to our school. This scholarship enables these students to work ten hours per week in the research lab of a Biological Sciences faculty member in the spring or summer semester of their freshman year. These mentoring relationships are highly prized by Biology students in helping them launch their college and professional careers. The impact of this program is considerable:
The freshman enrollment yield for Biology majors admitted to Georgia Tech and offered a Fast-Track scholarship was 1/3 higher than the average yield for Biology majors over the past four years.
The total enrollment for Biology majors increased 9% in Fall 2018 to 393 despite the fact that we launched a new Neuroscience major in 2017.
The average SAT score for Fast-Track scholars enrolled in Fall 2018 was 1498, 5% higher than the average for all Biology majors
We asked some our current Fast-Track Scholars to tell us what this research experience has meant to them as first year Biology majors. Below is a sampling of their responses:
Philippe Lamarche
My experience as a first-year Fast Track to Research recipient has given me an amazing opportunity to discover what lab work is like and develop important technical skills. It has also been greatly satisfying to find out how the things I've learned in class are related to current problems in the field.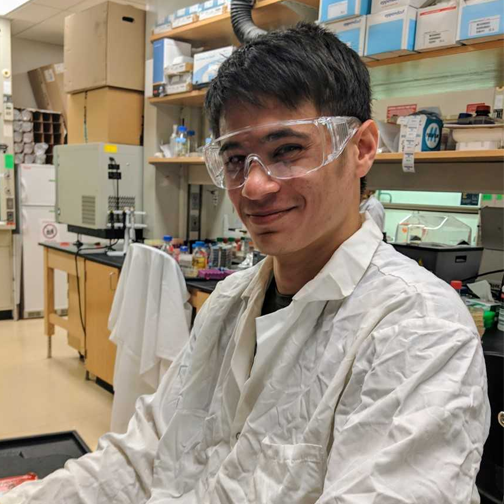 Patrick Kramer
As a prospective oncologist, I was very eager to get a jumpstart into research, and the Fast-Track to research scholarship was one of the biggest reasons I even came to Georgia Tech in the first place. Working in a cystic fibrosis lab this semester has taught me valuable laboratory skills and techniques, along with vastly improving my analytical skills, and opening my mind up to potential solutions for modern medical problems. The work I have done this semester has amplified my curiosity and has inspired me to find creative solutions to difficult problems that modern society faces today. I am eternally grateful for the opportunity, and I hope it continues to inspire young minds behind me.
Tamia Jones
The Fast-Track scholarship has been highly beneficial for me, and with my research, I have been exposed to a variety of different skill sets involving both problem-solving and computer science. As a future applicant to medical school, I believe these skills will aid in my individuality as an applicant and overall success in the medical field. I would like to sincerely thank those that have supported and contributed to the success of all individuals that participate in the Fast-Track program.
We are asking you to join other Biology alums in making the Fast-Track Scholarship program a success. Generous financial contributions by our alumni have enabled the Fast-Track Program to improve our ability to attract and retain the best students to the Georgia Tech Biology major. Any financial support that you give, whether big or small, will go 100% to scholarships. Gifts of a full $1500 scholarship will enable you to name the award as you wish.
To make a donation, please mail a check made out to the Georgia Tech Foundation, Inc. for Fast-Track Scholarships to Ms. Deanna Walker, Financial Manager, School of Biological Sciences, Georgia Tech, Atlanta, GA 30332-2230. By giving back to our school you will help enhance the reputation of Georgia Tech and the value of your degree. The Georgia Tech School of Biological Sciences and its students are deeply appreciative of your support. If you have any questions, please contact Dr. Mike Goodisman (michael.goodisman@biology.gatech.edu), Associate Chair for Undergraduate Affairs.