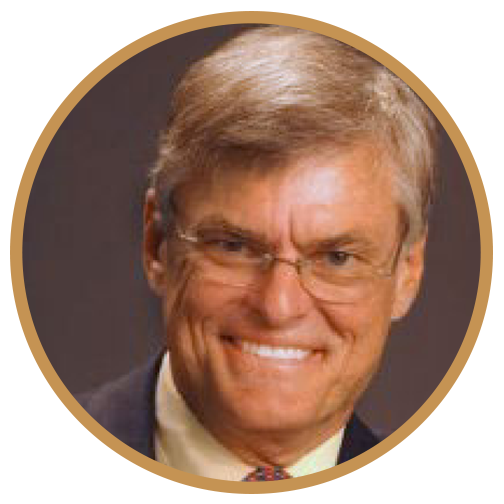 A generous gift from the McCallum Family Foundation of Biology alumnus Dr. Jack McCallum '66 has provided scholarships to reward outstanding undergraduate students for their academic excellence and performance in Georgia Tech research labs. The McCallum scholarships enable undergraduates to engage in an exceptional undergraduate research program. Scientific research is a defining characteristic of the undergraduate experience in the School of Biological Sciences at Georgia Tech. Young undergraduate researchers are provided access to excellent faculty mentors and well-equipped research labs, which are critical to their training as scientists. The McCallum scholarships enable the School of Biological Sciences to recruit and retain exceptionally capable students, and provide a capstone award for publication of outstanding undergraduate research. Most importantly, these awards encourage research experiences that help to launch scientific careers.
Dr. Jack McCallum has a distinguished career that spans medicine, business and academia. He holds a Bachelor of Science from Georgia Tech (1966), an MD from Emory University (1970), and is currently on the faculty at Texas Christian University. Between his medical training and his late career move to academe, Dr. McCallum worked as an adult and pediatric neurosurgeon for over twenty-five years, building the premier specialty practice in Fort Worth, Texas. Not content to serve patients one-on-one in his practice, he moved into entrepreneurship in a series of endeavors to better use medical data to help physicians improve the patient experience.
As an active entrepreneur, Dr. McCallum founded Integration Health Management Associates, one of the earliest firms using data-driven evaluation of physician performance, and North Texas Specialty Physicians, an independent practice association, that markets data-driven quality programs nationally. In 2005, Dr. McCallum was a founding member of Leprechaun, a company that used claims data to assure proper reimbursement for Medicare Advantage plans. In 2009, Dr. McCallum founded CenseoHealth, a company that provides in-home health risk assessments for Medicare Advantage plans. Most recently, Dr. McCallum founded IntegerHealth and currently serves as its CEO and Chairman of the Board.
After retiring from active medical practice in 2001, Dr. McCallum received a Ph.D. in history from Texas Christian University, where he serves as a professor in the History Department to this day. As exciting and varied as his career has been, Dr. McCallum has never forgotten that he got his start in Biology at Georgia Tech. His generous gift of scholarships for undergraduate research is a fitting symbol of gratitude for his experience at Georgia Tech. The School of Biological Sciences is deeply grateful for his commitment to give back.
The McCallum gift provides four types of awards:
First Year Students compete for six Fast-Track to Research Scholarships of $1500. They will engage with their mentors as first semester freshmen in Fall semester 2019, and conduct research in Spring 2020.
Second Year Students compete for seven McCallum Undergraduate Research Scholarships to support ongoing research with a faculty mentor. Undergraduates apply in Spring 2019 for a $2,000 scholarship in Summer or Fall 2019, or Spring 2020.
Third Year Students compete for two McCallum Undergraduate Research Fellowships that support continuing excellent and productive undergraduate research with a faculty mentor. Two students will receive $12,500 each, dispersed over 4 semesters, beginning Spring semester 2019 and continuing through Spring 2020. In addition to the scholarships, each McCallum Fellow receives $625 for travel to a scientific conference to present the results of their research.
McCallum Award for Publication of Outstanding Undergraduate Research – Biology undergraduates compete for two $1,000 awards conferred in Spring 2019 to final year students for publication of outstanding undergraduate research.
It is difficult to overstate the significance of these awards for the ability to recruit and retain the finest students available to the Georgia Tech School of Biological Sciences. These awards have created enthusiasm among Biology majors and are contributing to a palpable sense of academic excellence in the School.